WELCOME To MasterNet, Your Community of Grace!
Where Jesus is the only answer
MasterNet is a GRACE-Filled Community of mature BELIEVERS who've been transformed RADICALLY by the love of Jesus Christ. His GRACE has thoroughly blessed us. Consequently, we believe that Jesus is the only answer for EVERYTHING, and now in gratitude, we want to give back to you.
We are here to serve you as your Grace Coach, Grace Counselor, or Family Advocate.
"After you have suffered for a little while, the God of all grace, who called you to His eternal glory in Christ, will Himself perfect, confirm, strengthen and establish you." 1 Peter 5:10
We've been through the most harrowing battles imaginable and experienced the RADICAL LOVE OF JESUS CHRIST as He transformed us from the inside out!
His WORD of GRACE ruined us forever, and we now live to share this GOOD NEWS with you.
"But thanks be to God, who always leads us in triumph in Christ, and manifests through us the sweet aroma of the knowledge of Him in every place." 2 Corinthians 2:14
What is Grace? Grace is always a supply from Heaven, and it has to be received before it can be shared or given, and it has a tendency to multiply, sometimes exponentially.
Grace is the source of our Salvation, the reason for our redemption, and the emphasis behind the renewal of our mind, which is effortless through Grace.
Grace is defined as something of tremendous value given as a gift; it's always free, unearned, unmerited, and unconditional once it is received.
"Now to Him who is able to do far more abundantly beyond all that we ask or think, according to the power that works within us," Ephesians 3:20
Intro to our Grace eCourses, eBooks, and Grace Coaching
Expect to be set free from heavy burdens and lies holding you back and keeping you and your family down. And this new freedom will come to you effortlessly. You will EMERGE from our eCourses never to be the same!
Click here for more information about Grace: The Parent Survival Kit or our Grace eCourses.
Welcome to MasterNet's Grace Academy
Our #1 eCourse - Grace: The Parent Survival Kit
Grace: The Parent Survival Kit: WELCOME to "GRACE: The Parent Survival Kit!" For your convenience and spiritual growth, we bundled 5 of our most powerful eCourses together at a substantial discount in the survival kit.
Are you in Crisis? Barely hanging on? Do you need a parent survival kit? If so, you're not alone, and you've come to the right place!
Typically, people need "survival kits" when they are in "crisis' or "survival mode." People go into survival mode when they are continually under attack and persecution or dealing with ongoing financial, medical, physical, emotional, or psychological crises.
Are you weary, tired, and feeling like giving up? Then receive some GRACE!
GET Your Parent Survival Kit NOW!
The outcome of completing The Parent Survival Kit? More Grace! Yes, regardless of the "type," "kind," or "severity" of your crisis, YOU HAVE UNLIMITED FAVOR IN CHRIST. And if you think you need more Grace, then JUST ASK!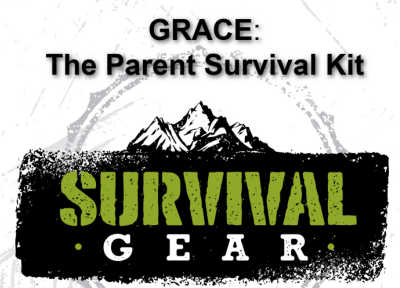 After using our Parent Survival Kit, it WILL BE apparent that IT'S RIGGED IN YOUR FAVOR! Basically, those IN CHRIST WIN, PERIOD. Start winning again today!
"After you have suffered for a little while, the God of all grace, who called you to His eternal glory in Christ, WILL HIMSELF PERFECT, CONFIRM, STRENGTHEN and ESTABLISH YOU." 1 Peter 5:10
YOUR PARENT SURVIVAL KIT - GOD'S GRACE IS ALL YOU NEED FOR ANY SURVIVAL KIT!
"Therefore let us draw near with confidence to the throne of grace, so that we may receive mercy and find grace to help in time of need." Hebrews 4:16
WE BELIEVE YOU WILL ENJOY THE OUTCOME OF OUR eCOURSES IMMENSELY! Let God's Grace supply you and your family with EVERYTHING YOU WILL EVERY NEED in Jesus' name!
"so that in the ages to come (now) He might show the surpassing riches of HIS GRACE in kindness toward us in Christ Jesus." Ephesians 2:7
ENJOY YOUR GRACE AWAKENING!
"Blessed be the God and Father of our Lord Jesus Christ, who has blessed us with every spiritual blessing in the heavenly places IN CHRIST," Ephesians 1:3
Grace eCourses: Encountering the Grace of God. Our eCourses and Grace Coaching Services are about encountering the Grace of God. Our MISSION is simple, to direct ALL people to His Grace. LEARN MORE
"And God is able to make all grace abound to you, so that always having all sufficiency in everything, you may have an abundance for every good deed;" 2 Corinthians 9:8
Grace Homes: Grace Homes are Christ-centered therapeutic programs licensed and accredited by State and Local agencies. A Grace Home is a professional program that has proclaimed that Jesus is the only true answer. LEARN MORE
Grace Counselors: Let us help you locate the nearest Christ-centered Grace-filled Professional Licensed Counselor, Marriage and Family Therapist, Licensed Clinical Social Worker, Psychologist, or Psychiatrist to help in your time of need. LEARN MORE
Grace Coaches: Grace Coaches are battle-strong Christians with a strong testimony of God's amazing Grace, having endured and persevered in faith by Grace. Let our Grace Coaches show you Jesus as the only answer! LEARN MORE